Model TR-1-NK-4 scale indicator can display up to 4 separate scale or load-cell inputs and their total load
.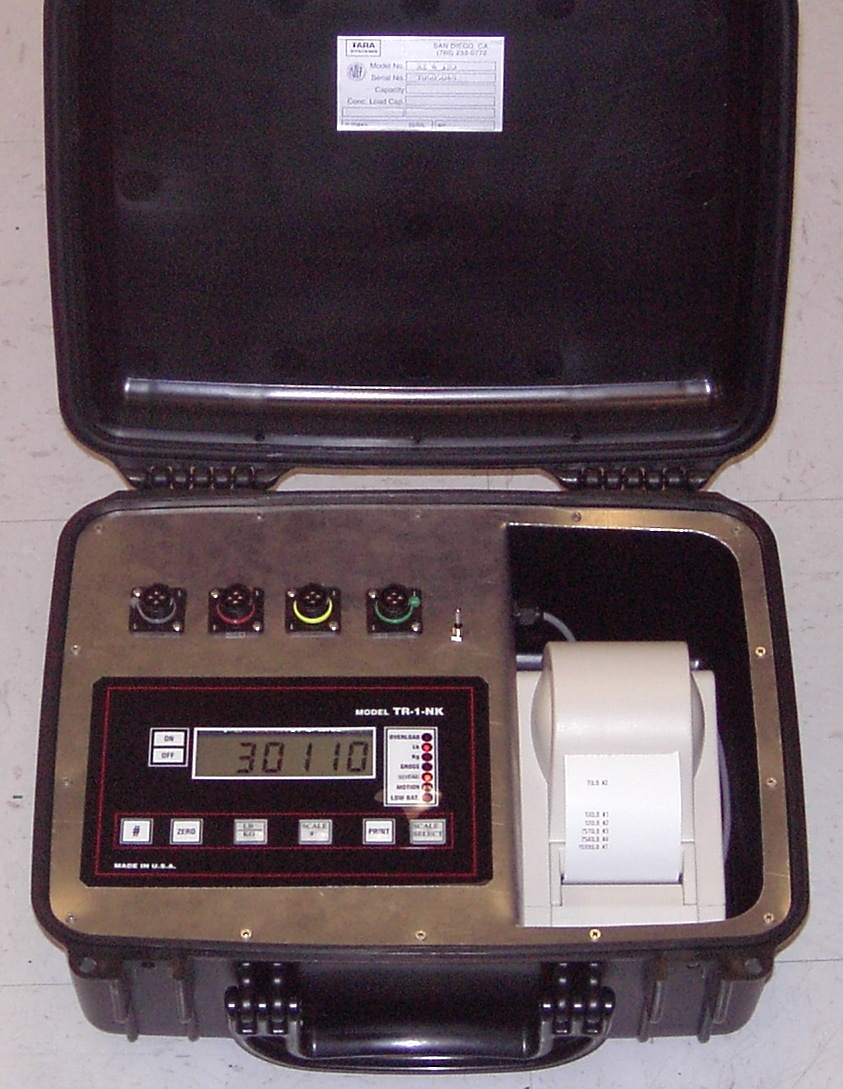 Shown with optional printer
Full feature digital scale indicator in heavy duty portable enclosure with internal rechargeable battery. Made in U.S.A. at our San Diego plant. Easy connection to all strain-gauge load cell scale systems with quick disconnect twistlock connectors. Complete digital calibration with full range push button zero on all 4 inputs. Separate calibration for each input. Display modes for display of each scale or load cell or the TOTAL of all. Motion detection and automatic zero maintenance. Printer and continuous data output. Time and date print is optional, along with other options.
| | | |
| --- | --- | --- |
| | Part # & Manual | Description |
| TR-1-NK | 14001 | Portable version |
| Power | | 12 volt battery with 120 volt adapter/charger |
| Enclosure | | Heavy duty plastic with carry handle |
| Display | | High contrast LCD for outdoor viewing - 6digits .7" tall |
| Load Cell power | | 5 volt dc able to power 8 ea. 350 ohm cells |
| Temperature | | 0-40c operating range |
| Resolution | | 1 part in 65,000 internal maximum |
| Accuracy | | 0.01% of full scale |
| Linearity | | 0.01% of full scale |
| Input | | 0 to 3 millivolts per volt |
| Output | | Serial printer data and continuous data |
| NTEP coc | | 91-077 |
| Option | 14002 | Time and date |
Use BACK button to return to previous page